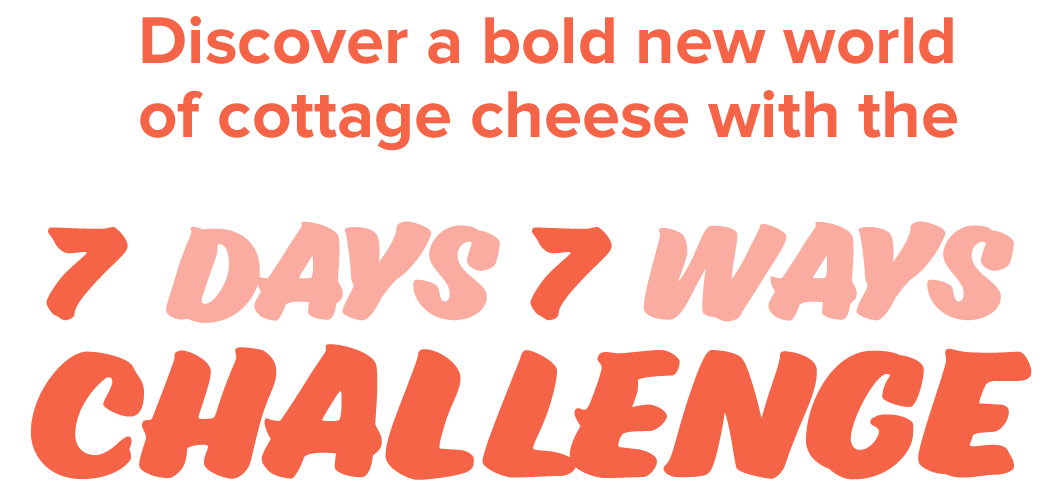 Kemps is taking cottage cheese to places it has never been. And we're challenging you to discover delicious new ways to add this protein powerhouse to your day. Try a new flavor, or creation, for seven days, and we guarantee you'll go from skeptic to superfan with every bite.
Day 1
Very Berry Cottage Bowl
A quick cottage cheese breakfast bowl is always a good idea. This one has sweet berries, jam and granola. A high-energy kick-start to your day.
Kemps 2% Lowfat Cottage Cheese
Jam or fruit preserve
Ripe blackberries
Granola
Mint, to finish
Day 2
Buffa-bold Chicken Flatbread
For those who can't stand bland! Spicy buffalo chicken. Crumbled blue cheese. And BOLD jalapeño cheddar cottage cheese. It's ah-mazing.
Flatbread
Kemps BOLD Jalapeño Cheddar Cottage Cheese
Buffalo chicken
Red onions
Red jalapeño
Celery
Blue cheese crumbles
Buffalo sauce

Bold new flavors.
Fresh new favorites.
Whether you like it sweet or savory, these are definitely not for the faint of flavor.
view products

Day 3
Peachy Caprese Cottage Salad
Cottage cheese and salads go together like peaches and sunshine. And this peachy caprese salad is a protein-packed combo of both!
Tomato slices
Peach slices
Kemps Peach Cottage Cheese
Prosciutto
Salt & pepper
Extra virgin olive oil
Basil
Day 4
Greek Cottage Toast
Are you on team savory? Then, by all means, grab a handful of olives and say hello to this Mediterranean-inspired snack.
Toasted sourdough
Kemps Garlic Parmesan Cottage Cheese
Mixed olives
Fried capers
Extra virgin olive oil
Oregano
Salt & cracked pepper
Parmesan shavings
A creamy canvas for all your creations.
Sourced from local Midwest dairy farms, Kemps is the cream of all cottages. Mix it. Top it. Swap it. Snack it. Blend it. Whip it. Or simply grab a spoon and enjoy it on its own. This is one incredibly versatile food.
view products

Day 5
Tropical Citrus Rainbow Roll
There's a pot of nutritional gold at the end of this rainbow bowl. Rich in vitamins. Packed with protein. Like a burst of sunshine in every bite.
Kemps Pineapple Cottage Cheese
Grapefruit
Kiwi
Pineapple
Chia seeds
Honey
Toasted coconut
Day 6
Salmon and Cottage on Rye
Try this twist on bagel and lox with smoked salmon on a creamy schmear of cucumber dill cottage cheese. Your new brunch favorite.
Rye toast
Kemps Cucumber Dill Cottage Cheese
Smoked salmon
Purple radishes
Dill
Microgreens
The perfect on-the-go-go-go snack.
Curb your hunger with these protein-rich, single serves. So tasty, and they'll keeping you going all day.
view products

Day 7
Bold Bacon Cottage Bagel
The ultimate protein power breakfast. Egg, bacon, and BOLD bacon cheddar cottage cheese. Because you can never have enough bacon.
Toasted bagel
Bacon
Kemps BOLD Bacon Cheddar Cottage Cheese
Tomato slice
Avocado
Fried egg
Sriracha
One more for good measure!
Fiesta Chicken Cottage Bowl
Meal prep is easy with this simple cottage bowl. The fresh, tex-mex flavors and textures make a fiesta in your mouth!
Kemps 2% Lowfat Cottage Cheese
Lettuce
Cherry tomatoes
Black beans
Grilled chicken
Roasted corn
Lime wedges
Tortilla crisps
Cilantro
Nothing common about this curd.
More protein, lower sugar than the leading lowfat yogurt.**

* See nutrition facts panel for Sodium content.
** Kemps Cottage Cheese has 63% more protein than the leading lowfat yogurt. Kemps Cottage Cheese has 11g of Protein per 4oz serving compared to 4g per 4oz serving of the leading lowfat yogurt.
** Kemps Cottage Cheese has 46% lower sugar than the leading lowfat yogurt. Kemps Cottage Cheese has 7g of Sugar per 4oz serving compared to 13g per 4oz serving of the leading lowfat yogurt.