Breakfast/Brunch
Apple Pecan Stuffed French Toast
---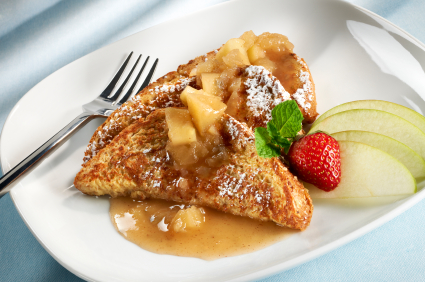 Ingredients
Makes 12 servings
1 8 oz. package cream cheese
1 tsp vanilla
1/2 cup pecans, chopped
1 16 oz. loaf, French bread
4 eggs
1 cup Kemps Golden Egg Nog
½ tsp cinnamon
1/2 tsp vanilla
1/2 tsp nutmeg
2 cups granny smith apples, thinly sliced
1/2 cup apple cider
1 1/2 cups caramel sauce
Instructions
Beat together cream cheese and a teaspoon of vanilla until fluffy. Stir in nuts and set aside.
Cut bread into 10 to 12 1/2-inch slices. Cut a pocket in the top of each. Fill each with 1 1/2 tablespoons of cheese mixture. Beat together eggs, egg nog, 1/2 teaspoon vanilla, and nutmeg. Using tongs, carefully dip the filled bread slices in egg mixture; be careful not to squeeze out filling. Cook on both sides until golden brown.
Meanwhile, cook apples and juice in a medium pan over medium/low heat until apples are tender.
Place on hot French toast. Drizzle caramel sauce on top.