Breakfast/Brunch
Baked Pumpkin French Toast
---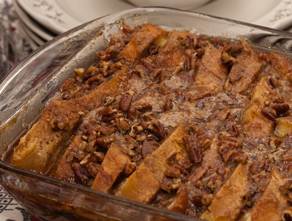 Kemps Pumpkin Spice Egg Nog baked into a breakfast classic and topped with sweet and festive flavors.
Ingredients
French Toast
14-16 slices of bread (1lb. loaf)
6 large eggs, slightly beaten
2 1/2 cups Kemps Pumpkin Spice Egg Nog
1 cup canned or homemade pumpkin puree (not pie filling)
3/4 cup sugar
2 Tbsp pure vanilla extract
1/2 tsp ground cinnamon
1/2 tsp ground nutmeg
Topping
1/3 cup all purpose flour
1/2 cup light brown sugar, packed
1/3 cup finely chopped walnuts
1/2 tsp ground cinnamon
1/3 cup cold butter, cut into small pieces
Instructions
Generously spray 9 x 13 inch baking dish with nonstick cooking spray.
Layer bread slices in pan, making two layers, and filling in area around the edges with strips of remaining bread.
In a large bowl, combine eggs, egg nog, pumpkin, sugar, vanilla, cinnamon and nutmeg. Beat until smooth (about 2 minutes).
Pour egg mixture evely over bread in dish. Cover dish with plastic wrap and store in refrigerator for at least one hour before baking.
In a medium bowl, combine flour, sugar, walnuts, and cinnamon. Mix well.
Add butter and cut into the dry mixture using your hands or a fork. Combine until butter pieces are the size of peas.
Preheat oven to 350 degrees.
When ready to bake, spread topping mixture over bread. Bake uncovered 35-40 minutes, until puffed and lightly golden.