Appetizer / Sides / Soup/Salad
Big Game Chili
---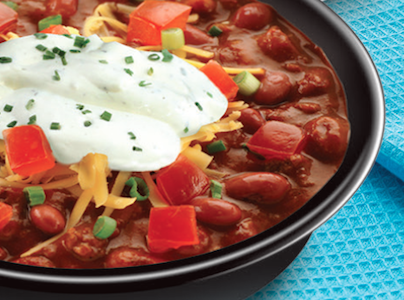 Ingredients
1 lb. Italian sausage
1 medium onion, chopped
1 bell pepper, finely chopped
1 28 oz. can diced tomatoes
1 29 oz. can tomato sauce
1 27 oz. can kidney beans
1 15 oz. can black beans
1 Tbsp Worcestershire sauce
1 1/2 Tbsp chili powder
1 tsp ground cinnamon
1 cup Top The Tater
1/2 cup shredded cheddar cheese
1/2 cup sliced green onion
Instructions
In a large pot or Dutch oven, brown meat with onions and bell pepper, stirring to break up meat.
Stir in diced tomatoes and tomato sauce.
Add beans, Worcestershire sauce, chili powder and cinnamon. Stir well.
Cover and simmer for 20 minutes, stirring occasionally.
Top individual servings with a dollop of Top The Tater.
Garnish with shredded cheese and green onions if desired.
Serves 8