Appetizer / Snack
Cauliflower Skins
---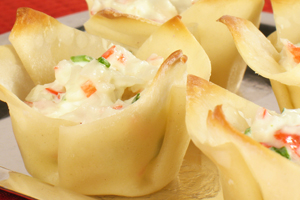 Herbs, cauliflower, and cottage cheese blended and spooned onto Wonton wrappers for the ulimate cullinary creation!
Ingredients
¾ cup Kemps 1% Low Fat Cottage Cheese
1 large head of cauliflower (about 3 cups) steamed
1 tsp minced garlic
¼ tsp rosemary
¼ tsp thyme
¼ tsp black pepper
Pinch of salt
Wonton wrappers
Olive oil
Cheddar Cheese (shredded) bacon (cooked & diced) optional
Instructions
Preheat oven to 400F. Line baking tray with parchment paper.
Place wonton wrappers in a single layer on the baking tray.
Drizzle with olive oil and bake for 8-10 minutes or until golden brown.
In a food processor blend cauliflower, cottage cheese, garlic, rosemary, thyme, pepper, and salt until smooth and creamy.
Spoon cauliflower mixture onto baked wonton wrappers.
Garnish with cheese and bacon.
Broil on high for 1-2 minutes to refresh.