Appetizer / Main Dish / Sides / Snack
Sour Cream Chicken Quesadilla
---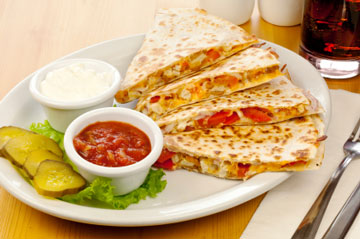 Ingredients
1/2 cup Kemps Sour Cream
1 1/2 tsp taco seasoning
4 flour tortillas
1/2 cup of diced tomatoes
1/2 cup shredded lettuce
8 oz. boneless, skinless chicken breast, cooked
1/2 cup Jack cheese
Your favorite salsa
Instructions
Preheat oven to 300F.
Mix sour cream with 1 tsp taco seasoning and set aside for assembly of the quesadillas.
Lay 2 flour tortillas on a flat working area. Spread a thin layer of sour cream mixture over both.
Cover sour cream mixture evenly with the shredded lettuce.
Slice the cooked chicken breast on the diagonal and layout evenly over the lettuce from end to end on the tortillas.
Top with dollops of sour cream mixture and spread thinly and evenly over the chicken.
Top with jack cheese.
Cover with the remaining 2 tortillas and press down lightly on the top.
Brown both sides of each quesadilla over medium heat in a skillet lightly coated with a non-stick cooking spray. Turn carefully using a big spatula.
Place quesadillas in a 300F oven to finish warming the filling, approximately 10 minutes. Slice each quesadilla into 4-6 pieces and serve warm with your favorite salsa and sour cream on the side.
Serves 4
Serving Suggestions: Serve with a side of guacamole, diced jalepenos or olives. Cut each quesadilla into 8 slices to serve as an appetizer. (Quesadilla: A flour tortilla filled with a savory mixture.)
Per Serving: 218 Calories; 7 g Fat; 18g Protein; 21g Carbohydrate; 39mg Cholesterol; 78mg Calcium; 2g Saturated Fat; 199mg Sodium