Breakfast/Brunch
Egg Nog French Toast
---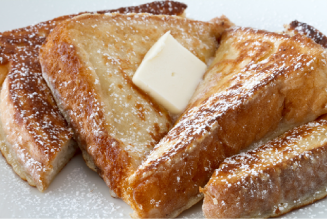 Classic french toast made with creamy J.R. Watkins Egg Nog.
Ingredients
6 slices French bread
2 eggs
1/2 cup Kemps & J.R. Watkins Pumpkin Spice Egg Nog
1 teaspoon brown sugar
1/2 teaspoon cinnamon
1/2 teaspoon nutmeg
1/2 teaspoon all-purpose flour
Instructions
Combine eggs, egg nog, brown sugar, cinnamon, nutmeg, and flour into a shallow bowl. Whisk until all ingredients are well combined.
Immerse both sides of the bread slices into the egg mixture.
Preheat a large skillet or griddle to medium-high heat and spray with nonstick cooking spray.
Place bread slices on the skillet or griddle and cook for a 2-3 minutes on each side, until golden brown.
Serve with butter and syrup and finish with a powdered sugar dusting.
*Also try with our other J.R. Watkins Egg Nog varieties like Vanilla and Vanilla Almond!