Appetizer / Dessert / Snack
Fruit Pizza
---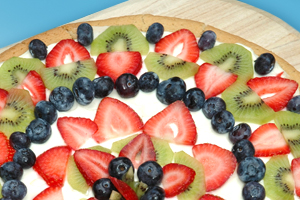 Quick, easy and cottage cheesy!
Ingredients
1 cup Kemps 1% Low Fat Cottage Cheese
¼ cup Kemps Skim Milk
1 pkg refrigerator sugar cookie dough
2/3 cup powdered sugar
1 tsp vanilla
Fresh or canned fruit of choice
1/3 cup apple jelly
Instructions
Roll out sugar cookie dough to size and shape of pizza pan.
Bake according to package directions. Cool completely.
In a food processor blend cottage cheese, milk, powdered sugar, and vanilla until smooth.
Spread evenly onto cooled sugar cookie crust.
Top with sliced or diced fruit arranging fruit in any pattern according to your taste.
Heat apple jelly until liquid and brush over finished pizza to create a clear glaze. Chill.