Breakfast/Brunch / Drinks
Green Smoothie
---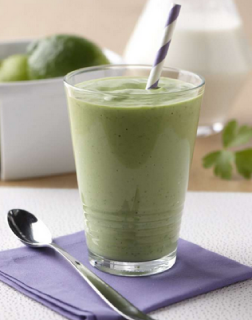 Start any day with this easy, delicious & healthy smoothie.
Ingredients
1 cup kale leaves (stripped from the stalks)
½ cup Kemps lowfat or fat free milk
½ cup ice cubes
½ ripe avocado, peeled and seeded
1 Tablespoon honey
½ teaspoon mint extract
¼ teaspoon vanilla extract
¼ teaspoon lime or lemon juice
Instructions
1. Combine all ingredients in blender.
2. Blend until smooth. Serve immediately.