Breakfast/Brunch / Drinks
Mango Smoothie
---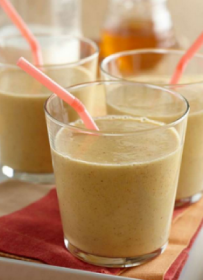 Mango, lime and ginger blended for a tropical treat!
Ingredients
½ cup quick-cooking oats
1 cup Kemps lowfat or fat free milk
1 cup fresh, frozen or jarred mango cubes (peeled, if fresh)
1 (11-oz) can mandarin orange segments, drained
2 Tablespoons almond butter
1 Tablespoon honey
1 Tablespoon lime juice
½ teaspoon ground ginger
Instructions
1. In a blender grind the oats until fine.
2. Add the milk and buzz to blend, then add remaining ingredients and blend until smooth. Serve immediately.
Makes two servings, 4 ounces of milk per serving