Main Dish
Pulled Pork Soft Tacos
---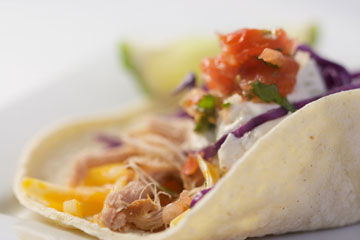 Let your slow cooker do the work and come home to assemble dinner in no time. Change up the recipe with different shredded cheeses and vegetable toppings for a one-dish meal to satisfy every taste bud in your family.
Ingredients
For pork:
2 pound boneless pork loin roast
2 tablespoons brown sugar
1 tablespoon ground ginger
2 garlic cloves, smashed
1 small white onion, coarsely chopped
½ cup orange juice
2 limes, cut in half
For tacos:
12 (6-inch) soft corn tortillas
1 ½ cups shredded reduced-fat Colby Jack
½ cup Kemps sour cream
1 teaspoon cumin
2 scallions, trimmed and chopped
1 (8 ounce) bag shredded red cabbage
¾ cup fresh salsa
Instructions
Trim excess fat off roast.
In a small bowl, combine brown sugar and ginger; rub generously over roast.
Place in slow cooker with garlic, onion and orange juice; cook on low heat for 8 hours (or high for 4 -6 hours.)
Remove pork to large bowl and shred with forks. Strain pork liquid from slow cooker and pour over pulled pork to moisten.
Squeeze lime juice on top and mix well.
Divide into 12 servings.
In small bowl, mix together sour cream, cumin and scallions.
For each serving, cover corn tortilla with 2 tablespoons cheese; microwave for 20 seconds.
Top with pulled pork, 2 teaspoons of sour cream mix, 1½ tablespoons shredded cabbage and 1 tablespoon of salsa. Fold and serve immediately.