Dessert
Sour Cream Lemon Squares
---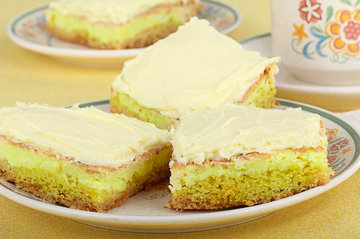 Ingredients
Crust
1 cup flour
1/2 cup butter, softened
1/4 cup powdered sugar
Filling
2 eggs
1 cup sugar
1/4 cup Kemps Low Fat Sour Cream
2 Tbsp flour
1/2 tsp baking powder
1/4 tsp salt
2 Tbsp lemon juice
1 Tbsp grated lemon zest
Glaze
1/2 cup Kemps Low Fat Sour Cream
1/4 cup sugar
Instructions
Preheat oven to 350F.
Coat an 8-inch square baking pan with pan spray.
Using a hand mixer, combine the ingredients for the crust and mix until well blended. Press evenly into the prepared baking pan. Bake 15 to 20 minutes or until golden
Meanwhile, beat together the filling ingredients until light and fluffy.
Pour the filling over the hot crust and bake an additional 25 minutes or until no imprint remains when lightly touched.
Cool 10 minutes.
Mix together the sour cream and sugar for the glaze.
Spread evenly over lemon squares.
Return to the oven and bake 5 more minutes.
Cool completely and then cut.
Makes 25 Bars
Per serving: 96 calories; 1g protein; 5g fat; 3g saturated fat; 27mg cholesterol; 81mg sodium; 21mg calcium.