Soup/Salad
Tomato-Basil Chicken and Carrot Chowder
---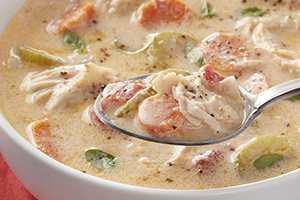 Ingredients
2 1/2 cups Kemps Select Half & Half
4 tablespoons butter
1 medium onion, chopped
2 cloves garlic, chopped
1 cup sliced celery
2 cups sliced carrots
2 tablespoons all-purpose or unbleached flour
½ teaspoon salt
¼ teaspoon black pepper
1 can (14.5 ounces) chopped fire-roasted tomatoes, undrained
2 cups chicken broth
2 cups shredded cooked chicken
1 tablespoon chopped fresh basil or 1 teaspoon dried basil
Instructions
Melt 2 tablespoons butter in large soup pot. Stir in onion, garlic, celery and carrots. Cook 7-10 minutes. Remove from pan.
Melt remaining 2 tablespoons butter in pan. Whisk in flour, salt and pepper. Cook 1 minute over medium heat, stirring constantly until mixture is smooth and bubbly.
Add Kemps Select Half & Half, stirring constantly. Add tomatoes and broth. Bring to a boil over medium-high heat. Add chicken and simmer 5 minutes over low heat. Sprinkle basil over top of soup before serving.
* Our Farmers Pledge No Artificial Growth Hormones. No significant difference has been shown between milk derived from rBST treated and non-rBST treated cows.