Drinks
Watkins Pumpkin Spice Egg Nog Latté
---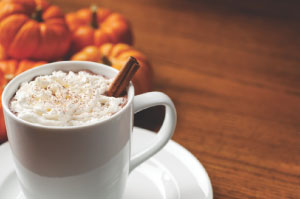 Warm up with this festive and fantastic fall beverage!
Ingredients
10 oz. hot, strong coffee
6 oz. Watkins Pumpkin Spice Egg Nog by Kemps
Kemps Heavy Whipping Cream
Powdered Sugar
Watkins Purest Ground cinnamon
Instructions
Warm egg nog in microwave on high for 15-20 seconds and add to freshly brewed strong coffee.
Top with freshly whipped cream, sweetened to taste.
Sprinkle with cinnamon.
Serves 2
Prep Time: 1 Minute
Total Time: 2 Minutes