Breakfast/Brunch
Watkins Vanilla Egg Nog Walnut Crunch Bread
---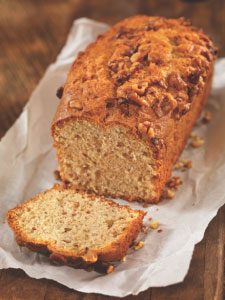 This rich and delicious autumn bread adds a festive touch to any fall celebration.
Ingredients
2 cups all-purpose flour
3/4 cup packed brown sugar
2 tsp. baking powder
1/4 tsp. salt
2/3 cup unsalted butter
3/4 tsp. Watkins Purest Ground Cinnamon
1/4 tsp. Watkins Ground Nutmeg
2 eggs
3/4 cup Watkins Vanilla Egg Nog by Kemps
2/3 cup chopped walnuts
Instructions
Preheat oven to 350 degrees.
Combine flour, sugar, baking powder and salt in large mixing bowl.
Cut in butter until mixture resembles coarse crumbles.
Place 1/2 cup mixture in small bowl. Stir in nuts and spices and set aside.
To remaining dry mixutre, add eggs and egg nog.
Stir until well blended.
Pour 1/3 of batter into well- buttered and floured 9 x 5 inch loaf pan.
Sprinkle with 1/3 of crumb mixture. Repeat twice.
Bake 60-65 minutes or until wooden pick inserted comes out clean.
Let cool in pan for 15 minutes. Remove from pan and cool completely on wire rack.
Wrap in plastic and store 24 hours before slicing.